Manosoft C64SD v2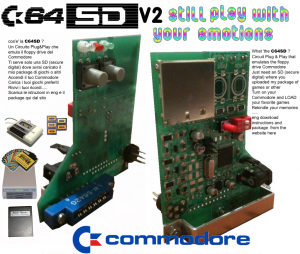 from c64scene.com Homepage:
Manosoft reached a version 2 milestone with his new mass-storage project, C64SD. The Italian developer Damiano Colombari based the C64SD design on the already existing SD2IEC solution.
This project is interesting not only because it's another mass-storage solution but because it combines already existing solutions to a new and fresh product.
Damiano has always followed all the Commdore related websites and forums especially concerning the MMC and SD2IEC projects. That's when he got the idea to build a solution for which one doesn't need soldering, wire cutting or the IEC cable.
C64SD utilizes the Datasette connector to power the SD2IEC circuit. An IEC connector connects right into the IEC port. The whole module stand vertical along the back of the C64 (or VIC20). The module is fitted with two rather large buttons, one reset and one diskswap/multi-function button.
The firmware supports:
D64/D71/D81/M2I support (reading/writing even with direct sector access using U1/U2).
PRG/P00 etc. support.
limited REL support.
subdirectory support (CMD command syntax).
support for Turbo Disk/Fast Load/Speeddisk fastloader.
supports the JiffyDOS fast serial bus protocol, the Final Cartridge 3 fastloader & -saver, DreamLoad & Exos.
supports an external "disk change" button.
supports FAT long file names and FAT12/16/32 formatted SD and SDHC cards.
supports sector access of SD cards from the C64.
supports most typical IEC functions (LOAD, SAVE, OPEN, GET, PUT, CLOSE, …)
The 1571 ROM has been taken as reference for the firmware implementation, many non-fastloader games run. This is a project in development and a nice one to follow.
source: c64scene.com c64sd.roxer.com