fpgaSID (Stereo 6581/8580 Replacement) by andi6510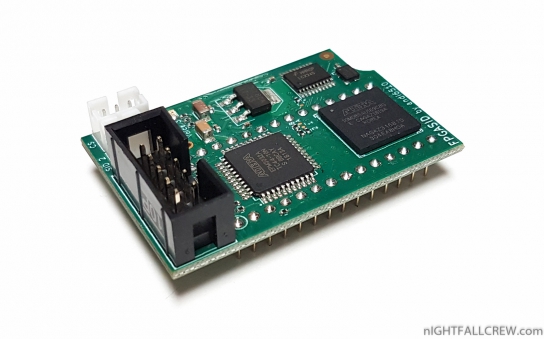 I could not resist the temptation to try also this "we hope it will be the last one!" FPGA implementation of the SID (Sound Interface Device) MOS 6581 / 8580, i'm talking about the fpgaSID by andi6510.
Probably this is the best implementation using an FPGA of the sound chip of the Commodore 64. If we make a quick comparison with the implementation made by Gideon for the Ultimate-64, both are the best ever.
It remains however understood that the audiophiles and purist of the sound generated of a original SID will never accept any implementation of the SID via FPGA.
andi6510 also wrote a software for the Commodore 64 (ConfiGuru) to configure the various fpgaSID options and for upgrade the firmware.

Below some information taken from the fpgaSID site.
Accurate replication of the original SID MOS6581 and MOS8580:
Exact reproduction of the digital sound generation part
Spice simulation of the analog filters
Advanced models for all 6581 non-linearities
Many extra features on top of the original SID:
FPGASID includes two fully functional SIDs for 6-voice stereo sound
Perfect audio quality – much better than the original SID!
Pseudo stereo mode mixes traditional tunes or game sounds to stereo
Digitize the analog input to 8-bit samples (in your own software)
Sample playback of 8-bit samples (in your own software)
Nice light organ effect visible when mounted in transparent case
Paddles readout even more accurate than the original SID
High compatibility:
Works in any C64/SX64 or C128
Works with any software written for standard single SID computers
Works with large existing software base for dual SID stereo tunes
Paddle and 1351 Mouse support
Analog input EXTIN fully supported
Easy configuration with the software tool ConfiGuru:
Individual configuration of every SID
Easy- and Expert configuration modes
Save up to two configuration sets permanently in flash memory
Easy update to new firmware directly on your C64
Flexible address allocation of the second SID
Diagnostic function to troubleshoot hardware problems
Easy installation:
Installation done in 20 minutes
No soldering required for all main features (except external configuration switch, when needed)
Much smaller than traditional stereo boards thus avoiding installation trouble
Gallery:
Video:
source: fpgasid.de