DreamPSU – Making your Dreamcast™ cool again.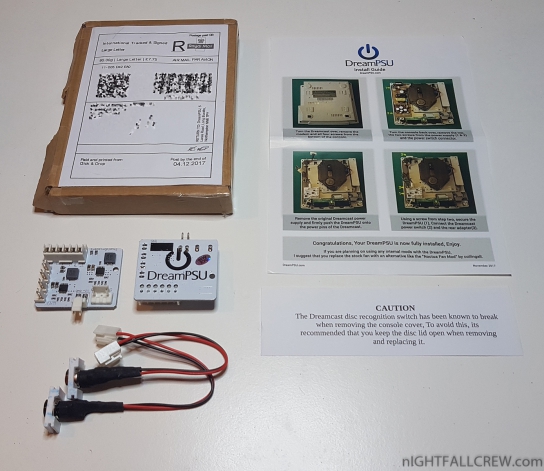 ..and after 5 months finally the DreamPSU is here!
DreamPSU – Making your Dreamcast™ cool again.
The DreamPSU is a simple and fast to install replacement power supply for the SEGA Dreamcast that not only reduces heat, but also frees up some much needed internal space for any other mods you may have or want to install.
Last year I noticed my Dreamcast™ getting unusually hot around the power supply, Not long after, I got myself a GDEMU (not required for the DreamPSU, but awesome anyway), and the heat further increased, after doing some research I realized the culprit was the 12v line on the power supply, when it isn't used it actually reaches 14v and produces a lot of heat, not wanting to modify the existing power supply for when I wanted to use my GDRom disc drive, I thought, OK, I'll make myself a new power supply.
I recently spoke to a friend of mine and he explained how the Dreamcast™ power supplies will eventually die and people will have to cannibalize other consoles for parts. So I told him about my power supply and he convinced me there might be a market for it and that I should see if people would be interested, So I posted on the Dreamcast-Talk forums and Facebook and indeed it seems like people are.
Features:
Small Size, only 48mm x 43mm (1.89in x 1.70in).
Drop in, easy to use replacement for original power supply (no modifications necessary).
Utilizes your original Dreamcast™ power button.
Runs from an external 12v 2.5amp power supply (not included).
Less heat inside your Dreamcast™ means that will potentially last longer.
More space inside your Dreamcast™ for other mods.
Spare 12v and 5v power header available for mods.
Gallery:
source: dreampsu.com