Commodore Amiga 1000 (A1000)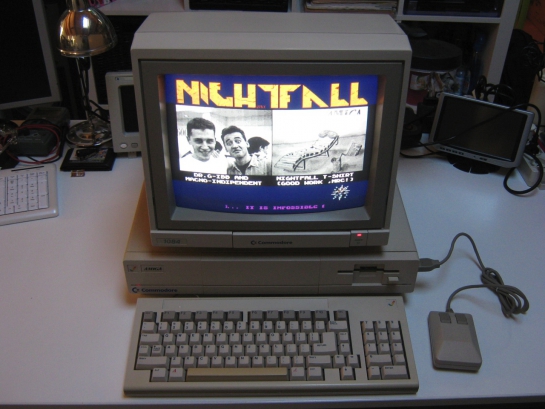 Autopsy:
Many years have passed since i sold my Amiga 1000 with Memory Expansion and Harddisk but with some patience and thanks to a friend i have found an Amiga 1000 in good condition for my RetroComputer museum.

As you can see from the photos i have changed the yellowed keyboard cover with a new one that was sold many years ago for Commodore spare parts.
from Wikipedia:
The A1000, or Commodore Amiga 1000, was Commodore's initial Amiga personal computer, introduced on July 23, 1985 at the Lincoln Center in New York City. Machines began shipping in September with a base configuration of 256 kB of RAM at the retail price of 1,295 USD. A 13-inch (330 mm) analog RGB monitor was available for around 300 USD bringing the price of a complete Amiga system to 1,595 USD. Before the release of the Amiga 500 and A2000 models in 1987, the A1000 was simply called Amiga.
In the US, the A1000 was marketed as The Amiga from Commodore, however the Commodore logo was omitted from the casing. Additionally the Amiga 1000 was exclusively sold in computer stores, rather than the various non computer-dedicated department and toy stores the VIC20 and Commodore 64 were retailed in. These measures were an effort to avoid Commodore's "toy-store" computer image created during the Tramiel era.
The A1000 had a number of characteristics that distinguished it from later Amiga models: It was the only model to feature the short-lived Amiga "checkmark" logo on its case; the case was elevated slightly to give a storage area for the keyboard when not in use (a "keyboard garage"); and the inside of the case was engraved with the signatures of the Amiga designers (similar to the Macintosh), including Jay Miner, and the paw print of his dog Mitchy. The A1000′s case was designed by Howard Stolz As Senior Industrial Designer at Commodore, Stolz was the mechanical lead and primary interface with Sanyo in Japan, the contract manufacturer for the A1000 casing.
source: wikipedia