ARM2SID SIDs & SFX Sound Expander (OPL FM synthesis) emulator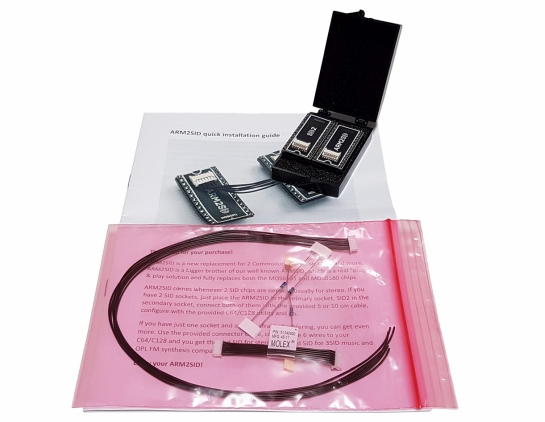 ARM2SID SIDs (until 3) & SFX Sound Expander (OPL FM synthesis) emulator.
Nobomi still amazes us with the ARM2SID a new TWO or THREE SIDs and SFX Sound Expander (OPL FM synthesis) "emulator".
The socket size of the ARMSID is DIP28 and is absolutely the same of the original chip and therefore fits perfectly in all situations.
The audio quality is really good for both; SFX Sound Expander (OPL FM) and the SID emulation.
It also possible add a second socket as the second SID if you have Stereo/U64/Reloaded adapter or connect wires directly to your Commodore computer.
A next logical step after succesful ARMSID. ARM2SID is based on the same blocks as ARMSID but one step more advanced blocks.
Thanks to them, it added the possibility of emulating up to two additional chips and / or FM synthesis with OPL2.
Like ARMSID, ARM2SID is a replacement for the MOS6581 and MOS8580 circuits used in Commodore C64/C128. It comes again in a minimalist form, but it can do a lot more.
It can replace up to 3 chips at the same time, it can also emulate SFX sound expander as well as the newer FM-YAM clone.
SIDs emulation itself is the same as with ARMSID, so emulation features can be read on its page.
Up to 12 channels music (two or three SIDs or FM or one SID and FM)!
Works with all C64 and C128 boards (please read manual)
Stereo in any combination of SID 6581 or 8580 models.
Automatic fall-back to dual mono if second SID is not used.
Configuration and upgrades by software utility in C64/C128.
More information can be found on the Nobomi website or RETROCOMP.cz
Gallery:
Video: