MultiColor v0.1.1 (Win32/Linux/OSx) released by Skoe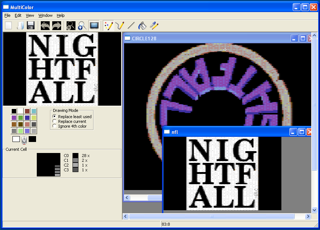 MultiColor is an image manipulation tool for Commodore 8-bit computers' graphics formats. It is an old-school painting program for graphicians but not an image converter. Currently VIC-II multicolor bitmap is the only supported image format.
Features:
Written in C++, so it's quite fast and no special runtime is required.
Can be compiled for many platforms, because it uses wxWidgets.
Can load Koala and Amica, file type is detected independently from file name.
Behaviour when hitting the color-per-cell-limit can be selected.
Undo/redo.
Tools with realtime preview (e.g. Line)
Basic TV emulation.
Zoom, with grid at higher zoom factors.
source: multicolor.berlios.de