Atari Dos: SpartaDOS X v4.48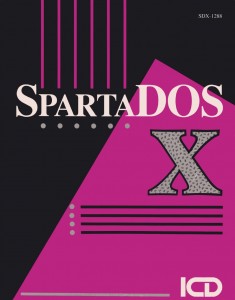 SpartaDOS X (or SpartaDOS 4.0) is a disk operating system for the Atari 8-bit family of computers, that closely resembles MS-DOS. It was developed and sold by ICD, Inc. in 1987-93.
Ten years later SpartaDOS X considered abandonware has been picked up by its enthusiasts, and developed further. These unofficial revisions, incorporating many of the utilities written since 1992, cleaning many identified problems and including numerous improvements.
Highlights:
Improved compatibility of 1 MB RAMBO and 576k Compy Shop RAM extensions with the internal BASIC on XL/XE.
CAR.COM: added support for the Weronika cartridge: to run the dedicated programs, use CAR /F filename.ext;
INIDOS.SYS should now work for SIDE2.
Fixed a major bug in the S_VBXE driver, which caused occasional hang ups after the Reset key was pressed.
CON.SYS: 80-column mode can now survive a warm reset.
CHKFAT.COM: new command line tool to verify FAT file systems compatibility with our FATFS driver
New program: MD5 hash tool
SC now version 1.0.0
Please read the release notes (the whatsnew.txt file) for full information.
The new SpartaDOS X 4.48 runs on the following hardware platforms:
intSDX128 and intSDX128 "flash"
IDE Plus 2.0 interface (*)
Maxflash 1Mb
Maxflash 8Mb (*)
Maxflash MyIDE+Flash
MyIDE II RAM
MyIDE II ROM
SIC! Cartridge 256k (*)
SIC! Cartridge 128k
SIDE HDD cartridge (*)
SIDE2 HDD cartridge (*)
SuperCart cartridge (*)
Ultimate1MB (*) (**)
Turbo Freezer 2005 (*) (***)
Altirra and Atari800 emulators
(*) – includes MAN on-line help
(**) – also use with Incognito board and Turbo Freezer 2011
(***) – use with Freezer ROM only
Dowload: SpartaDOS X 4.48 with Toolkit (533)
source: sdx.atari8.info wikipedia