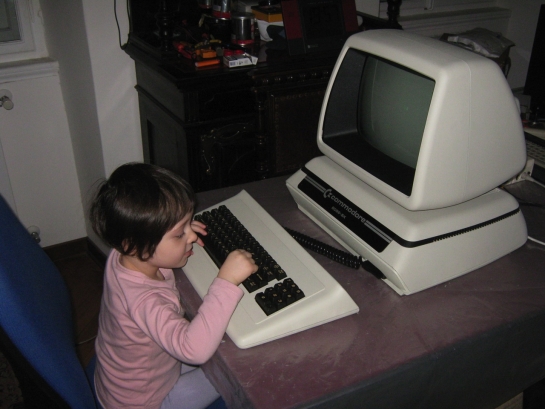 Autopsy:
from Wikipedia:
The Commodore PET (Personal Electronic Transactor) was a home/personal computer produced by Commodore starting in 1977.  It was a top seller in the Canadian, United States, and United Kingdom educational markets, and was Commodore's first full-featured computer and would form the basis for their entire 8-bit  platform. n the 1970s, Texas Instruments was the main supplier of CPUs for use in calculators. Many companies sold calculator designs based on their chip sets, including Commodore.
However, in 1975 TI increased the price to the point where the chip set alone cost more than what TI sold their entire calculators for, and the industry they had built up was frozen out of the market.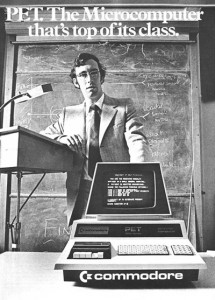 Commodore responded by looking for a chip set of their own they could purchase outright, and quickly found MOS Technology, Inc. who were bringing their 6502 microprocessor design to market.
Along with the company came Chuck Peddle's KIM-1 design, a small computer kit based on the 6502. At Commodore, Peddle convinced Jack Tramiel that calculators were a dead-end. Instead they should focus on making a "real" machine out of the KIM-1, and selling that for much higher profits. Tramiel demanded that Peddle, and Tramiel's son, Leonard, create a computer in time for the June 1977 Consumer Electronics Show, and gave them six months to do it. The result was the first all-in-one home computer, the PET. The first model was the PET 2001, including either 4 KB (the 2001-4) or 8 KB (2001-8) of 8-bit RAM. It was essentially a single-board computer with discrete logic driving a small built-in monochrome monitor with 40×25 character graphics.
The machine also included a built-in Datassette for data storage located on the front of the case, which left little room for the keyboard. The data transfer rate to cassette was 1500 baud, duplicated for safety, giving an effective rate of 750 baud. The 2001 was announced at the '77 Winter CES in January 1977 and the first 100 units were shipped in mid October 1977. However they remained back-ordered for months, and to ease deliveries they eventually cancelled the 4 kB version early the next year. Two more machines were released in the PET series.
The CBM 8000  included a new display chip which drove an 80×25 character screen, but this resulted in a number of software incompatibilities with programs designed for the 40 column screen, and it appears to have been unpopular as a result. The machine shipped with 32 kB standard as the 8032, but allowed another 64 kB to be added externally. Later the upgrade was installed from the factory, creating the 8096.
source: wikipedia petlibrary.tripod.com