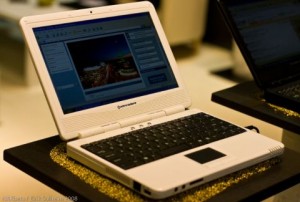 No, your eyes are deceiving you.
Commodore (as in Commdore Vic 20,C-64, Amiga) is bringing a Netbook to market. The UMMD 8010/F Netbook was shown off at IDF in Berlin.
The specs sound familar to those following the scene
- 10 inch screen
- Webcamera
- 1.6Ghz C7–M CPU
- 80GB HD
- 1GB of RAM
- WiFi
- Bluetooth optional
The price is a bit on the high side for NetBooks at around $600. Maybe they are counting on a wave of nostalgia buying.
Thanks to Leo Sexad for the news.