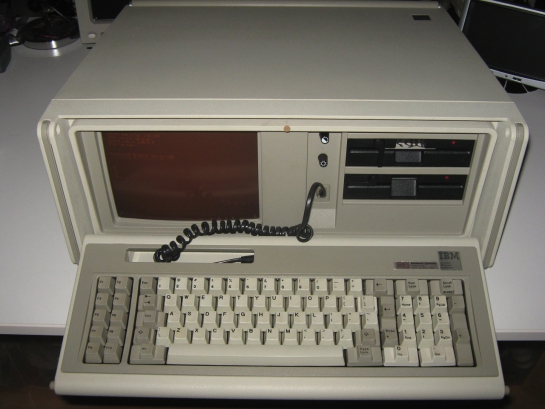 Autopsy:
from Wikipedia:
The IBM Portable Personal Computer 5155 model 68 was an early portable computer developed by IBM after the success of Compaq's suitcase-size portable machine (the Compaq Portable). It was released in February, 1984, and was eventually replaced by the IBM Convertible.
The Portable was basically a PC/XT motherboard, transplanted into a Compaq-style luggable case. The system featured 256 kibibytes of memory (expandable to 512 KiB), an added CGA card connected to an internal monochrome (amber) composite monitor, and one or two half-height 5.25″ 360K floppy disk drives. Unlike the Compaq Portable, which used a dual-mode monitor and special display card, IBM used a stock CGA board and a composite monitor, which had lower resolution. It could however, display color if connected to an external monitor or television.
The floppy controller card was the same as found in the IBM XT and supported up to four 360K drives (two internal, two external) but was not compatible with the higher-capacity drives then gaining in popularity, notably the 5.25″ quad-density ("1.2MB") drives that were standard in the IBM AT and 3.5″ 720K drives.
source: wikipedia