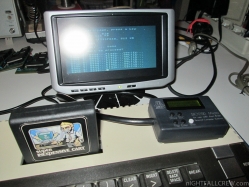 Autopsy:
The SIO2SD is a device that allows you to load games/applications into any 8-bit Atari XL/XE computers via SIO interface from SD cards.
This version is like the original SIO2SD (based to latest schematic "version 2″) but in a smaller form with some improvements by Panos.
Panos improvements:
As for the cpu the latest "low consumption" ATMega32A microcontroller in smd form.
The 74LVC245 who guarantees good data transfer between the microcontroller and SDcard, in proper voltage levels also.
New 47nf capacitors for better button response.
Extra resistor and capacitor added in output of low dropout voltage regulator, for better voltage stability particularly at "no load" condition. As result of that is much higher reliability and compatibility with more SD cards.
New tactile switches with smooth feeling for more comfortable use.
Push on-Push off type SD connector.
source: atariage.com/forums