Vtech Genius IQ 128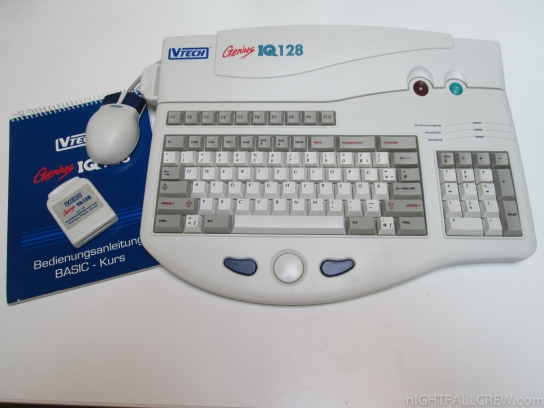 Autopsy:
The Genius PC is a home computer from VTech. Released in the late 90s, it is one of the last microcomputers.
This computer have different names in each country, making it even harder to track down the information.
France : VTech Genius PC
Germany : VTech Genius IQ 128 and VTech TV 512
UK : VTech IT Unlimited
USA : VTech Precomputer Unlimited
Also mentioned on the french packaging : Switzerland, the Netherlands, Canada.
Hardware:
Motorola MC68EC000, 16-bit external databus, 32MHz
256K of RAM
2M of ROM – Sharp LH537NWN mask ROM
Mass storage : 128KB flash memory – AM29F010
Cartridge port, apparently on memory bus with system ROM and storage flash. The french system comes with cartridges only containing straps, likely shorting some pins enable extra features…
Downlod: VTECH Unlimited Manual (899)
Hardware Video Review:
source: pulkomandy.tk/projects/avrstuff/wiki/geniuspc