SNK NeoGeo Mini (40th Anniversary) JAP Version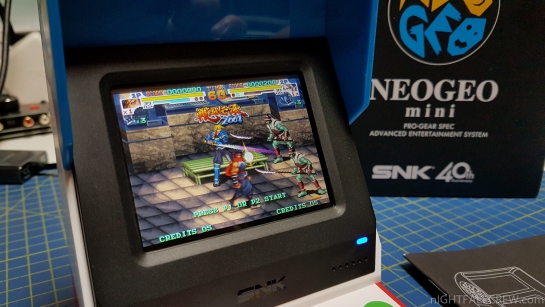 SNK Neo Geo Mini (40th Anniversary) JAP Version.
The Neo Geo Mini is an all-in-one system designed like a mini arcade cabinet with 40 classic games on board.
The 3.5-inch 4:3 screen isn't going to deliver amazing viewing angles or contrast, but it looks fine head-on and, critically, it displays everything in a crisp, native resolution, which is essential for the art of these games.
There's a pleasingly substantial power button on the back as well as three USB-C ports — two for controllers, one for power. The back panel also houses a Mini HDMI port and a headphone jack.
The selection of games is not going to be for everyone, but then neither is SNK's history in general.
Twenty-five of the 40 games are 2D fighters, including all 10 King of Fighters titles that ran on Neo Geo arcade hardware, three Samurai Shodown games, the first Art of Fighting, and four Fatal Fury games, including the eternal classic Garou: Mark of the Wolves.
Elsewhere, you'll find side-scrolling shooters like Metal Slug 1 through 3, along with shmups like Blazing Star and Twinkle Star Sprites.
I took unpretentious photos, if you are interested in photos with a excellent quality of the neogeo mini just search on the net, also you can see i have not yet attached the stickers that are supplied as standard.
Now you can also insult me because I bought an object like that, saying the usual and banal phrase: but it's a raspberry! you know that i couldn't care less.
Gallery:
source: theverge.com