U64/Ultimate-64 v1.20 Firmware Update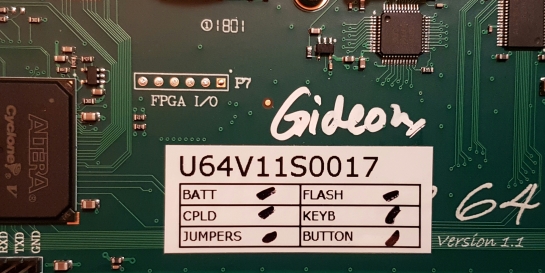 A new version of the firmware for the Ultimate-64 by Gideon is released.
Differences with previous official release V1.18:
Based on the Ultimate-II+ firmware Version 3.5
Added features:
Real time streaming VIC video data over Ethernet
Real time streaming audio data over Ethernet
Read more about the streams here: Data Streams documentation
Added commands on TCP port to enable/disable these streams
Added commands to enable/disable emulated drives, over UCI
Added possibility to write to D64 images from the menu (e.g. copy PRG files into it).
Added DE00 and DF00 ranges as possible options for SID socket decodes
Printer emulation now supports color!
Improvements to VIC:
Sprite collision timing solved
Sprite to background collision problem solved
Sprite expansion timing corrected, also in combination with multicolor
Sprite retriggering fixed
Border color change timing one adjusted by one pixel
Various improvements to pass emufuxx0r tests. (incl. 50-pixel wide sprites)
Fixed loading sprite data when VIC is read AEC=1
Sprite timing fixed for NTSC
Improvements to CPU:
ANE (B) made to work.
Implemented SHA, SHS, SHX, SHY and LAX #imm
CPU PIO register floating inputs fixed.
SID improvements:
Improvements to ADSR envelope generator (fixes missing notes in e.g. Hawkeye 2018)
More realistic values for SID filter resonance
Added volume control for the SID digis
LowPass boost in sid mixer.
Improved anti-aliasing on resample filter in PAL mode
Improvements on SID player
Built-in SID player now supports MUS files as well (including stereo tunes)
Music files can be found here: http://www.c64music.co.uk/
Added support for toggling screen on/off in Sidplayer with S key.
Added support for song length in SID header.
Fixed correct SID model selection for SIDFX boards
Various other bug fixes
Other machine fixes:
Other bug fixes:
Another bug in the network stack that caused stack corruption and random crash
Copying a file from a container now restores extension
Fixed issue of copying file from .t64 files
Added 'Enter' option for .t64 files
User Interface improvements / fixes
Fixed telnet connection – removing header upon connect (fixes random copy actions)
Changed default hostname to match target
Thanks to:
David Horrocks for very useful input about VIC sprite handling and custom test programs
Rene Garcia for this addition of color to the printer emulation
Wilfred Bos for his improvements to the SID (and now MUS) player
Scott Hutter for added UCI commands
Martijn Wieland for his U64_Streamer PC application
Chris Verheijen for his critical ear on UltiSID.
Download:
source: ultimate64.com