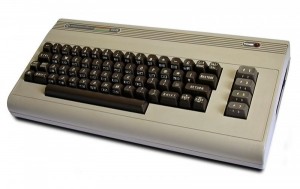 from Engadget homepage:
Commodore USA announces the PC64, an Atom-powered PC in a replica Commodore case.
We have a fondness for Commodore computers (as you've probably noticed by now) and we are psyched that Commodore USA is still flying the flag for the once-ubiquitous brand, but as they always are in this biz, things are a little… complicated.
We were first contacted way back in March when the company shared the news that it had acquired the rights to sell PCs under the name. Then what happened? Turns out this was not exactly the case… although CEO Barry Altman assured us that they were on their way towards hammering out a deal.
And here we are, in possession of a press release saying that indeed, Commodore USA, LLC, and Commodore Licensing B.V. have finally come to an agreement, meaning that your subsequent purchases will at least come with a Commodore decal. But that ain't all! This also paves the way for the company's newest offering, the Commodore PC64, an Intel Atom-powered PC featuring 4GB DDR3 memory, SATA 1TB HDD, HDMI output, optical drive (either DVD/CD or optional Blu-ray), and more — all in "an exact replica" of the original beige C64 chassis. …more
source: engadget.com