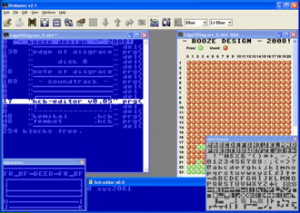 DirMaster is a Windows-based GUI tool useful for the management of common (and uncommon) emulator formats (such as .d64, .d81, .t64, etc) as well as native archival formats (such as .arc, .sda, .lnx, etc).
New in this version:
.t64 *write* support.
.t64 "Run In" support.
disk/archive content preview on file open dialog.
remembers window location/size between launches.
cross linked sector check.
"Run In" can now operate from a transient disk or tape image; this creates a temporary image which is passed to the chosen emulator; temp images are deleted when DirMaster exits.
configurable character replacements for exported file names.
and various other user interface tweaks and bug fixes.
source: style64.org