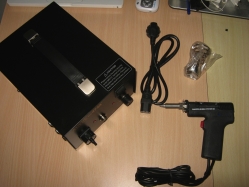 Autopsy:
My new desoldering station and a magnifying lamp has arrived!
After some frustrating times removing solder on an almost 30 year old PCB i decided to get a desoldering station.
So after using this for a few hours what one word can I use to describe this station? AWESOME! I don't know how i lived without this in the past. Using desoldering braid or a soldapullt is OK but not consistent.
Package content of Aoyue 474A+:
474 Station.
Desoldering Gun.
Filter pads 6pcs.
Silicone Grease.
Filter pipe.
Nozzle cleaning pins.
Power cord.
Desoldering gun holder.
source: aoyue.com