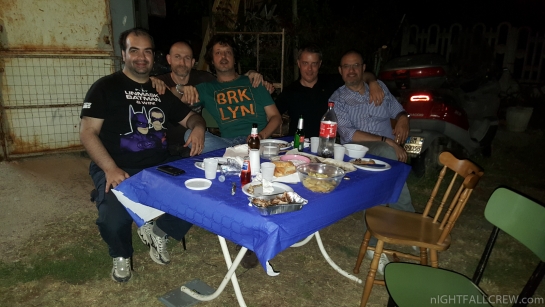 In this short article (i don't like to writing long articles that nobody reads) i share with you the three days spent with some dear friends.
Thursday 25th June at 6:45am i took the train to Rome/Termini, the journey is went well without a hitch on the times. I'm arrived in Rome/Termini at 12:20pm where i met Andrea, from Rome/Termini we took another train that took us to Nettuno.
Arrived in Nettuno we went to eat a sandwich, i was starving :-D, then we went to the "den" of Andrea and we immediately put to work, my initial idea with Andrea
it was to repair more computers possible in three days. In the afternoon we heard at the phone Paolo and Ciro. Thursday evening we went to the Andrea house for the dinner where i have known the wife and the daughter.
Friday morning wake up at dawn and we are back to the "den" to continue the repairs and half morning it came Paolo, could not resist one more day to see me ;-D
the appointment for the barbecue together was scheduled for Saturday, the day after. Friday Afternoon came Ciro and we spent the afternoon together to talking and in the meantime we have made repairs and  testing of computers turned off for over 30 years, we never stopped to work. Friday evening with Andrea and Ciro we went out to eat, the photos of the three dishes speak for themselves :-D
Saturday morning with Ciro we are moved from Anzio to Nettuno where we have continued to do repairs and talk. Saturday afternoon/evening they arrived Paolo and Carlo, i had never met Carlo in person, but it's as if i knew him always, we write and hear at the phone often. The evening is ended with a large barbecue where we talked not only of "Retro" until around the midnight. i had to go to sleep, the next day there was the train from Rome/Termini at 8:45am to back home.
I have spent three wonderful days with a friends which sharing the same passion. Thanks again to all.
Below a gallery of the photos taken in these three days.