SD2Iec Firmware v0.10.0 Final Released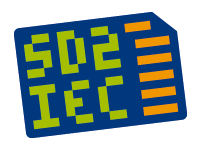 SD2IEC – è un'interfaccia hardware basata sul microcontrollore Atmel ATmega644 (ATmega1284p) che emula il Floppy Drive 1541 del Commodore 64/VIC20 e grazie all'usilio di una normalissima scheda SD possiamo caricare centinaia di giochi/demo e altro ancora al posto di utilizzare gli ormai 'introvabili' Floppy da 5¼ pollici.
Hardware e Firmware sono disponibili sotto licenza open source (GPL).
Changelog:
2010-11-07 – release 0.10.0
Deprecation notice: E-R and E-W commands will be removed in the next release.
Improved reliability of Nippon loader.
source: sd2iec.de gitweb forum thread c64-wiki