Restoration and Repair of a Sinclair Spectrum 128k +2A Arabic Version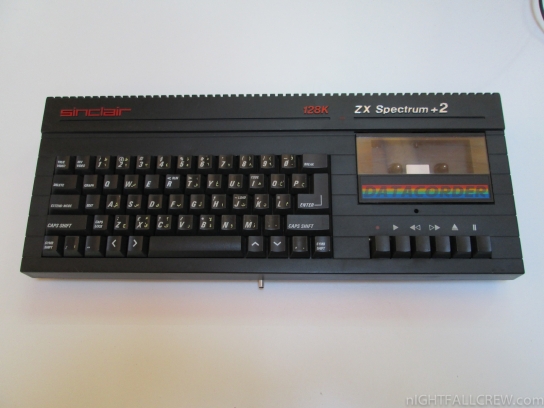 Autopsy:
Questa e' la traduzione del boot screen scritto in Arabo:

© 1987, 1988 Sinclair of Egypt
presented by Matsico Corp, an authorized dealer of Sinclair & Amstrad in Egypt
prepared by Dr. Nabil Nazmi
(Version 3)

Il computer è arrivato in condizioni pietose. L'interno del computer e la tastiera erano pieni di sabbia e sporcizia.

Restauro e Riparazione che sono stati fatti:

Sostituzione del case superiore con una nuovo.
Sostituzione del case inferiore con uno nuovo, poi sostituito nuovamente con la versione precedente per mantenere l'aspetto originale. (il foro per l'interruttore e' di serie nella versione Araba)
Sostituito il registratore.
Sostituita la scheda madre con una nuova ISSUE 2 al posto della ISSUE 1 (non era conveniente la riparazione della vecchia scheda madre)
Pulizia di tutti i tasti e le membrana.
Sostituite tutte le molle arrugginite della tastiera.
Pulizia generale.
Spostata la modifica ROM/EPROM sulla nuova scheda madre.
Sostituito l'interruttore originale con uno nuovo, poi sostituito di nuovo con quello vecchio per mantenere l'aspetto originale.
testo tratto dalla homepage di Wikipedia:
Il Sinclair ZX Spectrum, prodotto a partire dal 1982 dall'azienda inglese Sinclair Research Ltd di Clive Sinclair, è un microcomputer a 8 bit basato sul microprocessore Z80A, originariamente dotato di 16 kB di ROM contenenti il linguaggio BASIC, di 16 kB di RAM espandibili a 48 kB e di una caratteristica tastiera in lattice con 40 tasti multifunzione.
In Europa è stato il principale antagonista del Commodore 64 e conquistò una discreta fetta di mercato grazie al prezzo di listino più abbordabile. Le tante soluzioni costruttive adottate per contenere i costi spinsero alcuni recensori dell'epoca a classificarlo come "il computer con il miglior rapporto prezzo-prestazioni". Le piccole dimensioni, la velocità di calcolo e il prezzo relativamente basso lo resero popolare negli anni ottanta in tutto il mondo, tanto che se ne ebbero versioni clonate e praticamente uguali in estetica ma con nomi diversi, come l'Inves Spectrum in Spagna, il Moscow e poi il Baltic in Russia. Lo Spectrum fu anche distribuito negli USA con il marchio Timex, in una inusuale livrea chiara, con il nome Timex Sinclair 2068.
L'interprete BASIC venne fortemente personalizzato dalla Sinclair per compensare i limiti della tastiera e per sfruttare al massimo le caratteristiche grafiche e sonore della macchina.
Furono prodotte varie versioni dello Spectrum: oltre alle prime a 16 e a 48 kB, possiamo ricordare quella con una tastiera migliorata (a membrana ma con i tasti in plastica rigida) derivata da quella del Sinclair QL (Spectrum +) e le ultime, dopo l'acquisizione del progetto da parte dell'Amstrad con BASIC esteso, 128 kB di RAM ed il registratore a cassette o il floppy incorporato (Spectrum +2 e Spectrum +3).
source: wikipedia