ARMSiD (6581/8580 Replacement) by Nobomi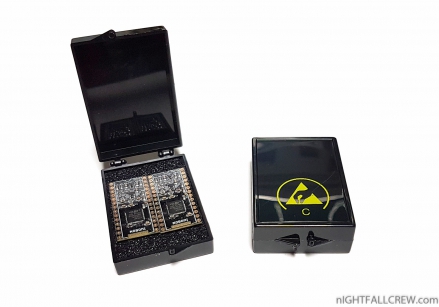 ARMSid (6581/8580 Replacement) by Nobomi.
Non ho resistito alla tentazione e ho voluto provare anche questa nuova emulazione del SID 6581/8580 con l'STM32F410 ARM Cortex M4, sto parlando dell'ARMSid di Nobomi.
La spedizione veloce e la cortesia di Nobomi sono sicuramente il punto forte, ma anche la confezione, l'integrato ARMSid viene spedito in un contenitore di plastica onde evitare qualsiasi problema con la spedizione.
Il suono e il feeling "sonoro" sono buoni come lo era per lo SwinSID Ultimate ma meglio, personalmente collocherei l'ARMSid come fedelta' di emulazione tra il SID Originale e il SwinSID Ultimate, Nobomi sei stato molto bravo, complimenti.
Nobomi inoltre ha scritto un software per Commodore 64 per configurare le varie opzioni dell'ARMSid e un'altro software per aggiornare il Firmware.
Alcune informazioni prese dal sito di Nobomi in Inglese:
What is it ?:
A new replacement of the MOS6581 and MOS8580 used in the Commodore C64. It is minimalistic (in simplicity of circuit and use, not in function and power).
Real "plug & play" solution. Just insert instead of the original SID into the slot and it's done.
It determines (through supply voltages) which chip it replaces and starts the appropriate emulation (it can be changed later in software).
No need to switch the PAL / NTSC version, the circuit uses directly the clock from the computer bus, always synchronous with the C64.
It also emulates analog inputs (joysticks, mouse, etc. – POTX and POTY inputs)
Analog output is sufficiently buffered, it is not necessary to change anything on the computer board for proper operation.
Output sampling frequency is 1/16th bus clock of C64 (approx. 62kHz), real 12bit D/A converter, no pwm.
Filters completely transferred to digital form, emulated by float point arithmetic.
Significantly lower noise level and less interference from the power supply than the original :)
Lower power consumption than the original.
Firmware update possible inside the C64.
Emulates all waveforms, and even "samples" (at least some of them, Ghostbusters laugh, Chimera screams at you).
Full support of analog filters (LowPass, BandPass, HighPass, combination, Q quality control).
Emulation of OSC3 and ENV3 registers (little delay, approximately 16 clocks of the C64 bus).
Joysticks and mice work.
What is inside ?:
A few resistors, capacitors, one stabilizer, one opamp and a processor. That's all, parts only from one side.
The only programmable circuit is the STM32F410, ARM Cortex M4 with HW float point arithmetic at 100MHz.
Analogue output amplified via the AD8515 opamp.
Stabilizer for the 3.3V processor, the processor itself has 5V tolerance inputs.
Firmware:
New features in FW 2.6:
Optimization for speed again (approx. 10ns more faster response to read registers, faster processing of writing registers).
New features in FW 2.5:
Again faster interrupt (approx. 10ns more faster response to read registers).
New features in FW 2.4:
Further optimization of the interrupt (approx. 20ns faster response to read registers).
New features in FW 2.3:
A part of source code (interrupt routine) has been rewritten in assembler and manually optimized.
It makes a possibility to control the bus only through the CS signal (no need for O2 clock synchronization, so it can run on systems with a different CPU than MOS6502 now).
Low frequency limit and filter strength settings and saving settings to permanent flash memory.
Gallery:
Download:
ARMSiD Video:
source: ARMSiD Homepage