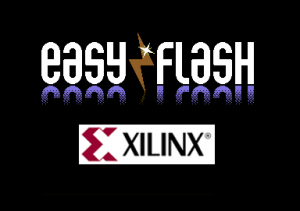 E' stato rilasciato il nuovo firmware per la cartuccia EasyFlash 3 di Skoe. Le istruzioni per l'aggiornamento le potete trovare qui.
Changelog:
Version 1.0.0 – 06.06.2012
USB and I/O2 RAM are also active in KERNAL mode
Allows USB-related features in a special KERNAL currently being developed.
KERNAL implementation uses a cleaner timing now.
CPLD Version register added ($de08). It will be displayed in the next menu version, not release yet.
Improved C128 support.
2 MHz mode works in EasyFlash mode (needed for PoP)
Added a way to leave to C64 mode or to C128 mode.
Will need a menu update, not release yet.
Still NO external KERNAL on C128! Many optimizations to get all this crap into the CPLD.
Some of the features will need a software update which is not release yet. Do not try to start an external KERNAL on the C128, it will crash.
Download: EasyFlash 3 CPLD Firmware v1.0.0 (751)
source: forum64.de